Workshops can be a great way for a writer to kickstart their career and boost their writing skills, but they can also be incredibly inaccessible, whether due to expenses, timezones, geography, or all of the above. In this webinar, Nebula Award finalist Suzan Palumbo will be exploring what it is traditional workshops offer and how you might be able to recreate that experience and improve your craft on your own, all from the comfort of your home.
After this class students will:
• Have an understanding of what long-term workshops offer and strategies to mimic them.
• See how the instructor was able to improve her craft without attending a long-term workshop.
• Know how to get the most out of online critique sites.
• Begin to identify weak areas in their writing and create a plan for improvement.
• Have an awareness of free and low-cost resources available to them to help improve their craft.
• Have a bibliography of online and physical resources.
• Have practice with analyzing a piece of fiction and strategies for applying this analysis when approaching their own work.
About the Instructor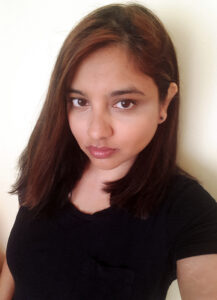 Originally from Trinidad and Tobago, Suzan Palumbo is a Nebula finalist, active member of the HWA, Co Administrator of the Ignyte Awards and a member of the Hugo nominated FIYAHCON team. She is also an ESL Teacher and a former Associate Editor of "Shimmer" magazine. Her short fiction and essays have been published or are forth coming in Lightspeed Magazine, Fantasy, The Deadlands, The Dark Magazine, PseudoPod, Fireside Fiction Quarterly, PodCastle, Anathema: Spec Fic from the Margins and other venues. Her debut dark fantasy/horror short story collection "Skin Thief" will be published by Neon Hemlock in Fall 2023. She is officially represented by Michael Curry of the Donald Maass Literary Agency and tweets at @sillysyntax. When she isn't writing, she can be found sketching, listening to new wave or wandering her local misty forests.
Class Schedule & Registration Options
The class takes place over 2 – 3 of July, 2022. The live webinar will be on July 2nd from 4 – 6 pm UTC  (click here to convert to your timezone), consisting of a 1.5 hr lecture with a Q&A session after. On July 3rd, the class will move to Teachable where students will discuss and analyse a piece of flash fiction.
This Live Webinar option costs 150 USD, and consists of participating in the live discussion as well as the analysis portion. If you cannot attend the class during this time period or do not feel you have the time to participate, you can also purchase the Video-Only option to access the recording afterward. This option costs 75 USD and includes the lecture and Q&A session, transcripts, plus any other materials such as slides or handouts, all of which will be sent by July 16th.
To register, please click here.
If you cannot pay for all or part of this class, don't fret! We have a number of full and partial scholarships available. Please fill out this form indicating what kind of scholarship you're aiming for, and tell us a little bit about your project or how you feel this class will help your writing journey. The scholarship deadline is June 15th by midnight UTC, and we'll get back to you by June 22nd. Please don't self-reject!
If you can no longer participate in the class, you can request a refund through Eventbrite up to 14 days before the class starts and will receive a full refund, minus processing fees. After that, the class will not be refunded, but you can apply the registration fee towards future classes.
Registration Requirements
This class is for writers of colour who have no more than one professional sale credit, as defined by SFWA. If you have multiple professional sales, you'll likely already have your own strategies and won't get as much out of this course.
To participate in this class, you will need a working internet connection. The live discussion will take place over Zoom, so please ensure that your device is compatible with Zoom beforehand. The asynchronous portion of the class will be over Teachable. A week before class starts, you will be enrolled into our Teachable course so you can access the materials and will receive an email regarding the next steps.
Accessibility
This class uses Zoom and will have Zoom's auto-generated closed-captions available. Questions will be submitted via Zoom's chat feature or via voice.
The recorded webinar will have closed captions and a transcript will be available.
If you have any questions, contact our class coordinator Yasmine at classes@carlbrandon.org and we'll get back to you ASAP!