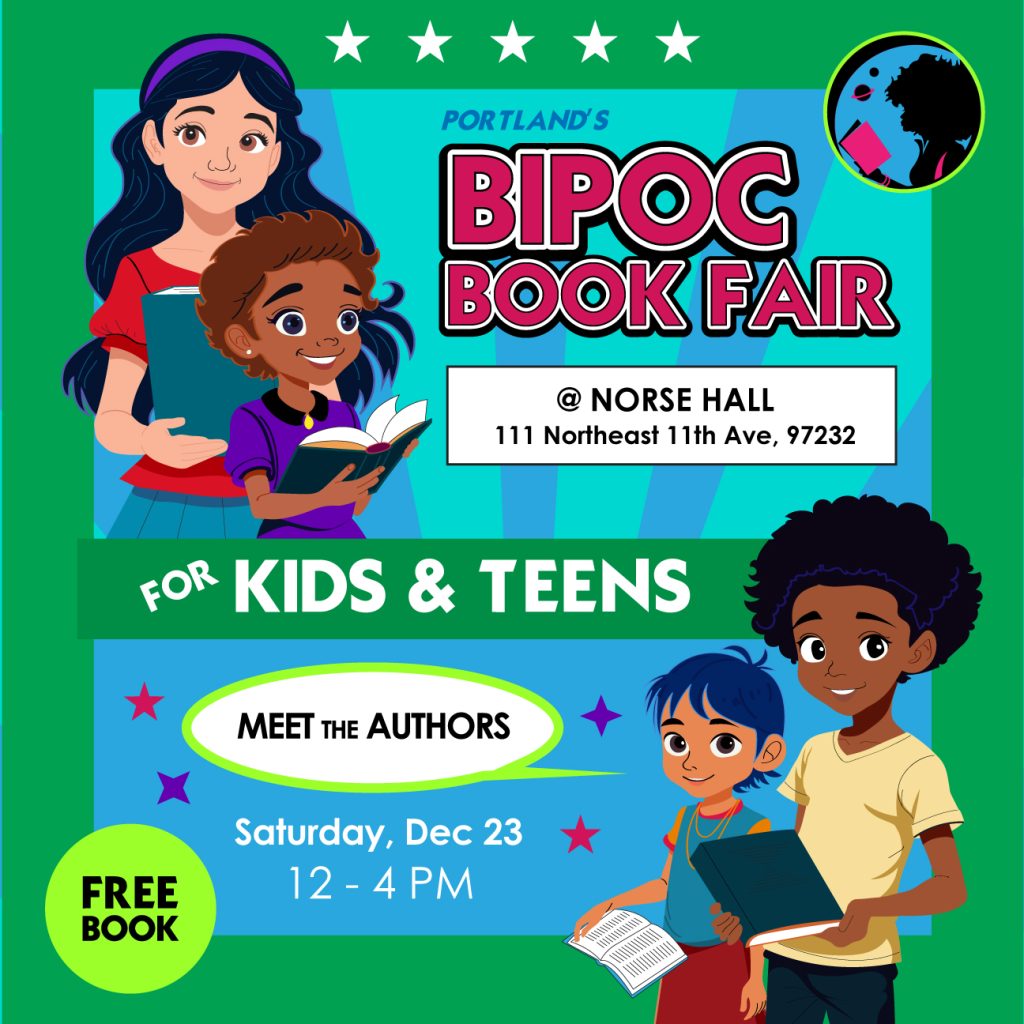 We're pleased to announce that volunteers from Oregon literacy nonprofit SMART Reading will be on hand at the BIPOC Book Fair to offer assistance to kids and teens in attendance in choosing books based on their interests. In addition, parents, teachers, and other adult attendees will get the opportunity to learn more about SMART Reading's programs, the organization's Children's Book Bank, and opportunities for kids, schools, and volunteering.
The BIPOC Book Fair features books for kids ages 3 to 17 from all genres–including adventure, fantasy, science fiction, mystery, non-fiction, and more–all written by BIPOC authors with BIPOC characters. In addition to books available for sale, children and teens attending the book fair will select a book of their choice to take home free. (Get your tickets here!)
"SMART Reading is excited to partner with the BIPOC Children's Book Fair," says SMART Reading Program Director, Rashelle Chase-Miller. "Our mission is to bring the magic of a shared book to kids, and we believe that all children deserve access not only to quality literature, but to books that reflect and affirm their identities, families, communities and cultures. We look forward to helping children explore and find books to love at the Book Fair, and to sharing about our programs with families and community members!"
"Ensuring that every child can take home a book regardless of finances was a high priority for me in putting together this book fair," says K. Tempest Bradford, author and Carl Brandon Society Steering Committee President. "I also felt that it was really important to give kids agency in choosing the book they want instead of having specific titles in a free pile. When I learned that SMART Reading has the same values around helping kids build their own personal libraries I knew they had to be involved."
We hope to sell all the books the fair has to offer, but we anticipate some will be left over by the end of the event.  We're raising funds so that CBS can purchase and donate any extra books to the Children's Book Bank at SMART Reading, local schools, and other literacy programs.
Books will be sold by Sistah Scifi, the first Black-owned bookstore focused on science fiction and fantasy in the United States.
Attendees will be able to meet and get autographs from award-winning local BIPOC authors:
Nisi Shawl (

Speculation

)

David F. Walker (

Naomi: Season One

and

Season Two

)

Anita Crawford (

Old to Joy

)

Diana Ma (

Heiress Apparently

and

The Unbeatable Lily Hong

)

Brian W. and Josie A. Parker (

The Wonderous Science

and

Crow in the Hollow

) 

K Tempest Bradford (

Ruby Finley vs. the Interstellar Invasion)
When: 

December 23

rd

from

12 – 4PM

Where: 

Norse Hall, 111 NE 11th Avenue, Portland, OR 97232

Tickets: $5/person for attendees ages 3 and older – Order Online

A limited number of tickets will be available at the door.

Masks are required for all attendees.