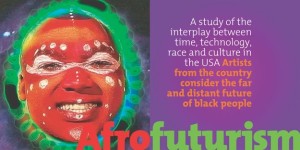 SPACES mounts the first exhibition in Ohio to explore the idea of Afrofuturism, the subculture that deals with the interplay between time, technology, race and culture in the USA. Seventeen artists, from both historical and future viewpoints, tackle the impact of technology on the physical, social and spiritual lives of black people.
Thanks, Sheree, for the pointer to this review this review by Lyz Bly.
The current exhibition at SPACES — Afrofuturism — attempts to address the ways African-American artists interpret and appropriate technology, literary fiction and electronic music, as well as images from the mass media and popular culture. There are nods to science fiction and the phantasmagoric in the exhibition as well. What is at the heart of Afrofuturism, however, is the acknowledgment of a history that continues to shape the present and the future; clearly, "black to the future" is, and always will be, steeped in the past.