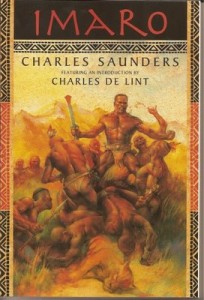 Charles Saunders has just released his re-imagined Imaro, through Night Shade Books.
Imaro
Charles Saunders

Imaro is heroic fantasy like it's never been done before. Based on Africa, and African traditions and legends, Charles Saunders has created Nyumbani (which means "home" in Swahili), an amalgam of the real, the semi-real, and the unreal. "Imaro" is the name of the larger-than-life warrior who travels across Nyumbani, always the outcast, searching for a home.

This novel tells the story of Imaro's childhood, his exile from his tribe, how he grew to manhood, and how he found and lost the love of his life. Charles Saunders has followed in the footsteps of Robert E. Howard and Fritz Leiber, creating an iconic hero along with dazzling, exotic, and mysterious world for Imaro to inhabit.

But like his contemporaries Karl Edward Wagner (Kane) and Michael Moorcock (Elric), Charles Saunders brings something new to the table. As a black reader of science fiction and fantasy, Saunders discovered that black characters and African or African-inspired settings were few and far between. The sense of being an outsider in one's own "tribe" provided the core seed for Imaro. A broad knowledge of, and passion for the history and myths of Africa fertilized Charles' imagination and led to the creation of Imaro… a heroic fantasy character the likes of which has never been seen.

Imaro is a rousing adventure… a tale of a young man's struggle to gain acceptance amongst his people, and upon failing that, his continuing struggle to break the cycle of alienation and violence that plagues his adult life.

At the same time, Imaro is a metaphor for Charles' experience as a black man in the white world of Science Fiction and Fantasy. It is a journey of alienation and reclamation. It is a story of triumph and discovery. A story that will dazzle, and thrill, and move you.

This is the author's preferred text, revised especially for our edition. With an introduction by the author and a foreword by Charles de Lint.

Cover art by Vince Evans.

"Charles Saunders is one of the most innovative writers in the so-called Sword and Sorcery field. He was in the second wave of pioneers. Those who actually made what Robert E. Howard invented move into a new and equally exciting arena. I always loved his ground-breaking novels and stories. And it's good to see him back."
—Joe R. Lansdale, author of Sunset and Sawdust and The Bottoms

"Lord knows, the field needs the fresh and discerning insights that only Charles R. Saunders can bring to it."
—Charles de Lint, author of The Blue Girl and Someplace to Be Flying

Cover by Vince Evans.